3D scanning with automatic batch processing
ATOS ScanBox BPS is an automated metrology system, which consists of an ATOS ScanBox 5108, a PLC Interface Station and a batch processing system from Erowa. This is a solution for full-field digitization of a batch of parts with a height of up to 500 mm.
The processing system makes it possible to automatically load and unload parts in the 3D scanner. This way the metrology system can measure parts without interference in up to 11 hours, and thereby optimize the measurement process.
ATOS ScanBox BPS is developed to accommodate the need for fast lead time, minimal influence from the operator and maximum machine utilization.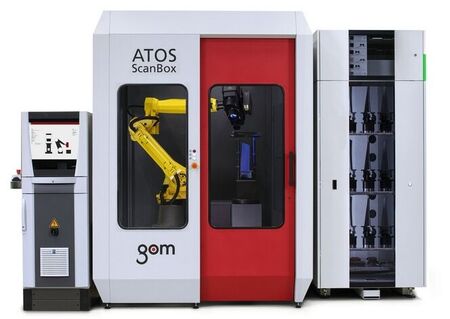 ATOS ScanBox BPS
With 3D scanning the entire surface of a part is measured, which reveals hidden flaws and defects.
The scanned data makes it possible to analyze individual parts or batches and perform full-field part verification. This gives you a better understanding of the characteristics of the parts and trends during production.
ATOS ScanBox BPS is ideal for measurement of different types of parts, but has been developed specifically for measurement of electrodes and turbine components.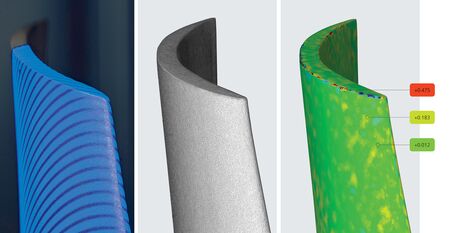 Within injection molding, the manufacturing of a single tool often requires up to 50 electrodes. Therefore, it is an advantage to use a metrology system which is self-loading and thereby ensure a more efficient production flow day and night.
Furthermore, the ATOS ScanBox BPS is equipped with a strong airfoil functionality, which result in precise and repeatable measurements that live up to the aerospace standards AC7130-4 and AS13003.
For the ATOS ScanBox BPS to be autarkical, parts must be placed in the batch processing system and marked for example with an RFID chip. The mark contains all necessary information about the part, such as type of component and serial number.
With the marks, the system detects the attached information and determines which measuring program to use in the 3D scanner and which inspections to perform.
With ATOS ScanBox BPS, the influence of the operator during measurement is eliminated, which increases the operational reliability. Furthermore, the system can keep the measurement process going day and night.
| | Solution 1 | Solution 2 | Solution 3 | |
| --- | --- | --- | --- | --- |
| Typical applications | Electrodes | Blades | Blades | |
| Max. part size | Ø50 mm | Ø72 mm | Ø115 mm | |
| Max. part height (incl. fixture) | 150 mm | 300 mm | 500 mm | |
| Max. part weight | 20 kg | 20 kg | 40 kg | |
| Max batch size | 132 | 88 | 25 | |
| Typical self-loading runtime [h] | 11 | 8 | 3 | |
ATOS 5 is a high-end 3D scanner with a strong LED light source, which ensures high data accuracy for a variety of applications. Available for both manual and automated setup.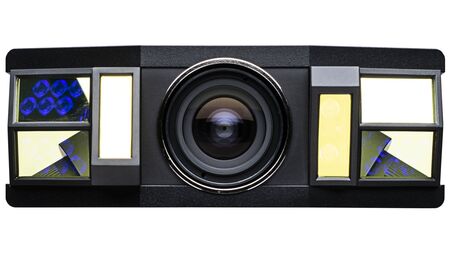 ATOS Plus is an add-on to the ATOS scanners, and is a combination of 3D scanning and photogrammetry. Using ATOS Plus a completely automated measurement process is obtained.