Reference point markers - Low
Markers with low adhesiveness
Reference point markers - Low have a low adhesiveness, which makes them easy to remove from parts after scanning. Low is recommended for sensitive surfaces.
The size of the reference point markers depends on which 3D scanner and measuring volume is used for measuring the part.
N.B. Zebicon is the Danish distributor of Carl Zeiss GOM Metrology products, and therefore only takes care of the Danish market. Please contact your local distributor for a quote on the needed reference point markers.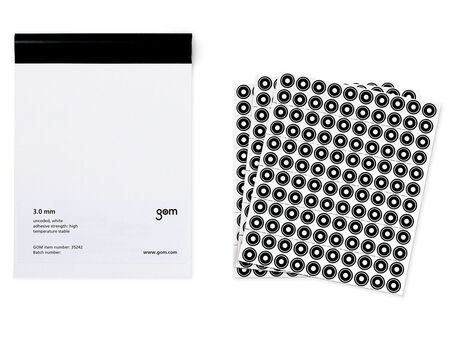 3.0 mm reference point markers
Inner diameter: 30 mm
Outer diameter: 7.0 mm
Round, on adhesive foil as tear-off pad
3.000 single point markers per pad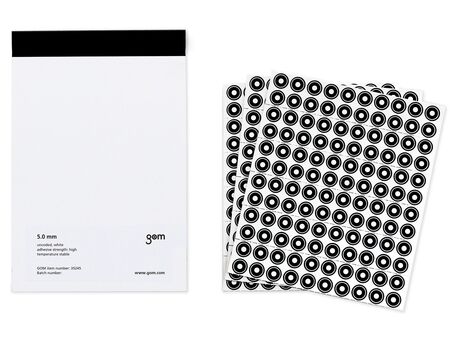 5.0 mm reference point markers
Inner diameter: 5.0 mm
Outer diameter: 10.0 mm
Round, on adhesive foil as tear-off pad
3.000 single point markers per pad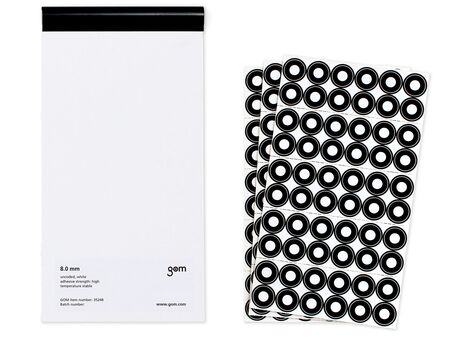 8.0 mm reference point markers
Inner diameter: 8.0 mm
Outer diameter: 16.0 mm
Round, on adhesive foil as tear-off pad
3.000 single point markers per pad