Flexible light-weight scanner
ATOS Compact Scan is a new class of scanners for 3D measurement and inspection.
It is a light-weight system which allows for new application areas and ensures maximum adaptation to different environments, especially narrow areas. The scanner from GOM is based on high-end technology and delivers precise data for reverse engineering, 3D measurement and inspection.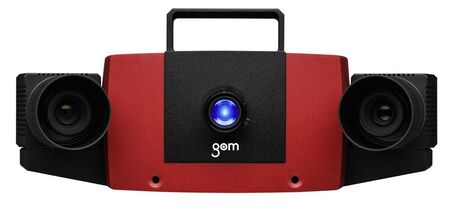 ATOS Compact Scan is a light-weight solution, which is easy to transport. All elements of the scanner system fit in the accompanying suitcase. A laptop for data processing is also included.
The scanner uses stereo camera setup, combined with the newest blue-light technology, making the scanning process independent of ambient light conditions. The scanner comes with 2 or 5 mega pixel cameras and several measuring volumes, which means that small and large objects can be scanned in high resolution and in good quality.
ATOS Compact Scan is a complete measuring system for high precision measurement. The system comes with professional inspection software, as well as training and support.
The projection unit in the ATOS scanner is based on Blue Light Technology, which means that the scanner projects light from a narrow-band blue frequency. Hereby, ambient light is filtered out during the scanning process and does not interfere during the measurement. The strong Blue Light source thereby result in an effecient and fast measurement.
| | ATOS Compact Scan | |
| --- | --- | --- |
| Measuring volume | MV40 - MV1200 | |
| Camera pixels | 8M, 12M | |
| Point spacing | 0.01 mm - 0.48 mm | |
| Setup | Manual | |
| Changeable lenses | Yes | |
| Blue Light Technology | Yes | |
| Triple Scan Technology | No | |
GOM ROT 350 is an automated rotation table, which is used in connection with 3D scanning of smaller parts.