Automated 3D scanning of large parts
ATOS 5X is equipped with an extremely powerful laser light source and can scan very large parts with high speed. The scanner is purely used in an automated setup and is developed for the car industry, where entire car bodies are 3D scanned and quality assured with this method.
3D scanning results in data of the entire surface area, which makes it possible to do comprehensive process and quality control, visualizing hidden flaws and defects. Hereby, the production processes are accelerated and made more efficient.
In combination with the ATOS ScanBox series, the ATOS 5X is a robust high-end scanner solution for large scale measurement.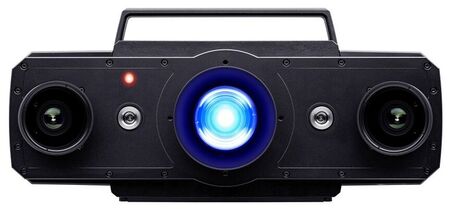 ATOS 5X is based on laser light. The sharp light makes it possible to scan measuring volumes up to 1000 mm extremely fast. With ATOS 5X, a scanning time of 0.2 seconds per scan is obtained. This means, that even large parts can be measured in short time.
A combined inside and outside surface measurement of a car body will typically take 30 minutes with ATOS 5X in an automated setup. This includes accurate documentation of complex geometries and advanced inspection of radii, edges, and holes.
An ATOS measurement system is a complete solution, which consists of hardware and parametric, traceable software for dimensioning and analysis. The reliable software solution controls the ATOS scanner, produces precise 3D data of the surface, and gives access to comprehensive inspection and reporting tools.
Before mounting of physical parts, the scans can be virtually assembled. It is thus possible to gain information about undesirable cracks and gaps at an early stage.
| | ATOS 5X | |
| --- | --- | --- |
| Measuring volume | MV320 - MV1000 | |
| Camera pixels | 12M | |
| Point spacing | 0.07 mm - 0.24 mm | |
| Setup | Automated | |
| Changeable lenses | Yes | |
| Laser Light Source | Yes | |
| Triple Scan Technology | Yes | |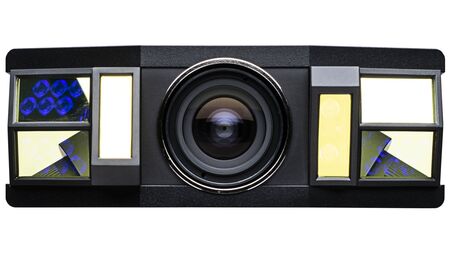 ATOS Plus is an add-on to the ATOS scanners, and is a combination of 3D scanning and photogrammetry. Using ATOS Plus a completely automated measurement process is obtained.
ATOS ScanBox 6135 and 6230 are ideal for part measurement of large components up to 3500 mm and 5000 kg.
The largest ATOS ScanBox series on the market. Perfect for measurement of large parts such as vehicles.